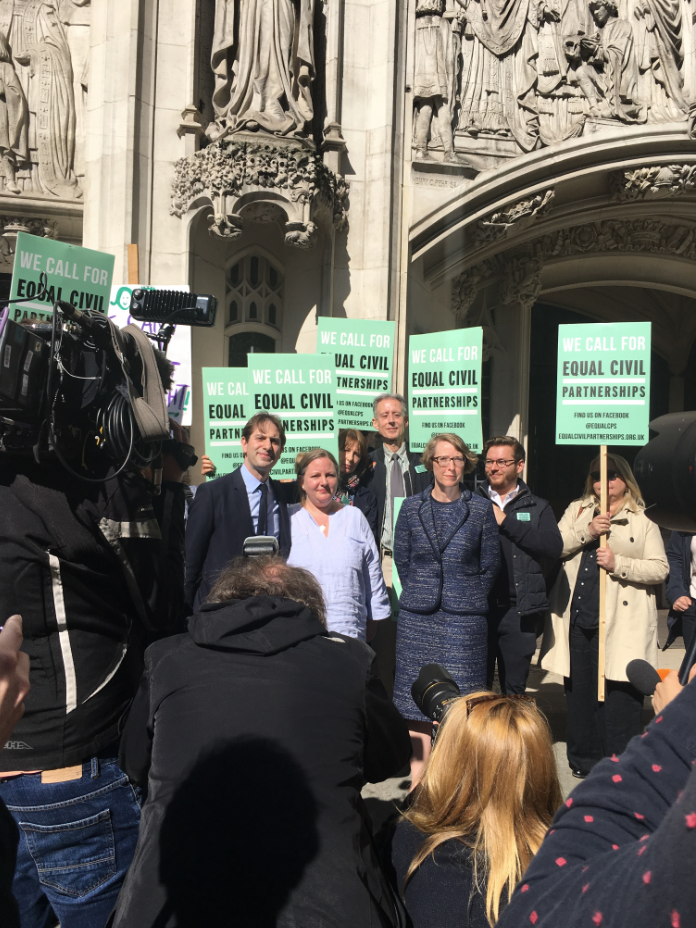 27 Jun

Supreme Court rules on civil partnerships: discrimination must end immediately

Our clients, Rebecca Steinfeld and Charles Keidan, have won their Supreme Court case to establish that the lack of civil partnerships for opposite-sex couples is unlawful and a breach of their human rights.

In a judgment handed down today (27 June 2018), the Supreme Court unanimously found that there was no justification for the ongoing discrimination.  The Court also unanimously made a declaration of incompatibility: the current law that limits civil partnerships to same-sex couples is incompatible with the Human Rights Act 1998.

Since 2013, same-sex couples have been able to choose between marriage or civil partnership, but the government has resisted calls to extend this right to opposite-sex couples. Rebecca and Charles, represented by Louise Whitfield of Deighton Pierce Glynn have been pursuing a change in the law through the courts since 2014.

As DPG's Louise Whitfield explains: "The Court could not have been clearer that the government's failure to act was unlawful and discriminated against my clients.  Lord Kerr, who gave the ruling on behalf of the whole Court, spells out the human rights breach in the following terms: 'I should make it unequivocally clear the government had to eliminate the inequality of treatment immediately'.  My clients very much hope that the government will now act immediately and extend civil partnerships to different-sex couples."

Rebecca and Charles have been overwhelmed by the public support for the case, and have managed to raise tens of thousands of pounds through crowdfunding in order to bring the court proceedings. Over 127,000 individuals have signed a petition in support to a change in the law and as many as 3.3 million unmarried couples could benefit from the change if the government takes action now. Allowing civil partnership for opposite-sex couples, would be fair, popular and protect children and their families. It would provide full parental rights, inheritance tax and pension rights, thereby no longer penalising long-established families who choose not to marry.

Our clients were also represented by Karon Monaghan QC and Sarah Hannett of Matrix Chambers.