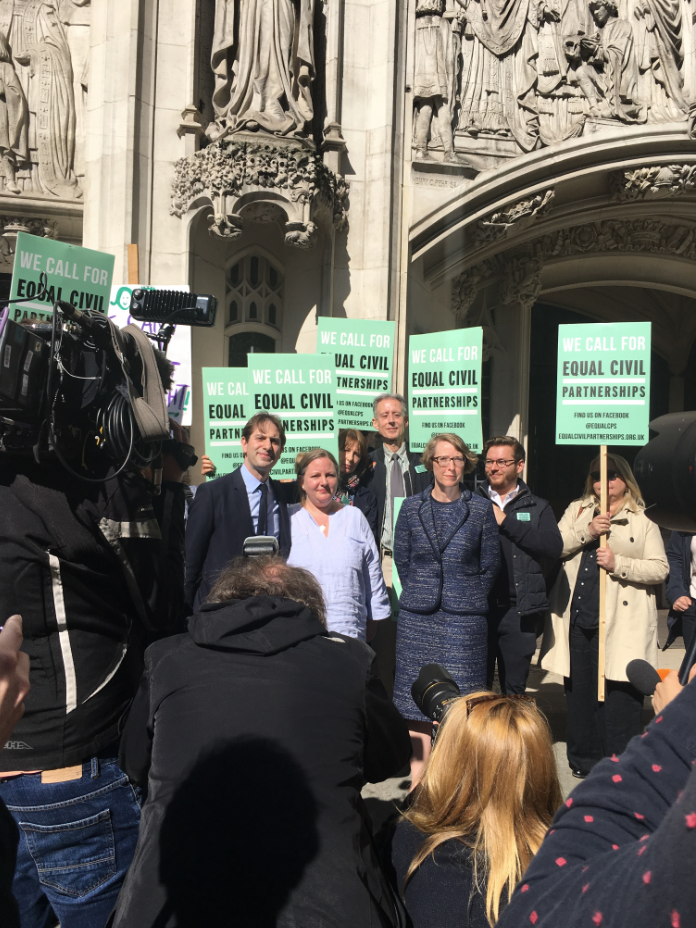 02 Oct

Government announces it will extend civil partnerships to mixed sex couples

Following our clients' Supreme Court win in June this year, the Government has announced they will change the law and extend civil partnerships to opposite-sex couples.

Earlier this year, Rebecca Steinfeld and Charles Keidan won their Supreme Court case to establish that the lack of civil partnerships for opposite-sex couples was unlawful and a breach of their human rights.  The Supreme Court unanimously found that there was no justification for the ongoing discrimination and made a declaration of incompatibility: the current law that limits civil partnerships to same-sex couples is incompatible with the Human Rights Act 1998.  Since then, our clients and many others have continued to campaign on this issue to secure a change in the law, and the Government has now finally announced that it will extend civil partnerships.

Since 2013, same-sex couples have been able to choose between marriage or civil partnership, but the Government had repeatedly resisted calls to extend this right to opposite-sex couples. Rebecca and Charles, represented by Louise Whitfield of Deighton Pierce Glynn, have been pursuing a change in the law through the courts since 2014.

In a joint statement, our clients welcomed the Government's announcement but they also called for a firm date for the reform, raising the case of a father-of-three who has terminal cancer. "This is a step in the right direction, but we will only celebrate when legislation is agreed and the Government confirms the date for when the first different-sex civil partnership can take place," they said. "Change is long overdue. We've been struggling for four long years to open civil partnerships to all for the millions of couples like us who want legal recognition and financial protection for their relationship. Now we urge the Government to finish the job so that couples such as Joanna and Steve, who has terminal cancer, can celebrate their love for each other in a way that is meaningful to them, before it is too late."

As DPG's Louise Whitfield explained following the Supreme Court ruling in June: "The Court could not have been clearer that the government's failure to act was unlawful and discriminated against my clients.  Lord Kerr, who gave the ruling on behalf of the whole Court, spells out the human rights breach in the following terms: 'I should make it unequivocally clear the government had to eliminate the inequality of treatment immediately.'"  Following the Government's announcement, she added: "This is great news, but my clients and thousands of others need a clear time frame for the change to come into force.  That is what the Court clearly told the Government to do more than three months ago.  As my clients have put it, the Government needs to legislate, so Charles and Rebecca can celebrate."

Our clients were also represented by Karon Monaghan QC and Sarah Hannett of Matrix Chambers.

Coverage of today's announcement is available on the BBC News and The Evening Standard websites.