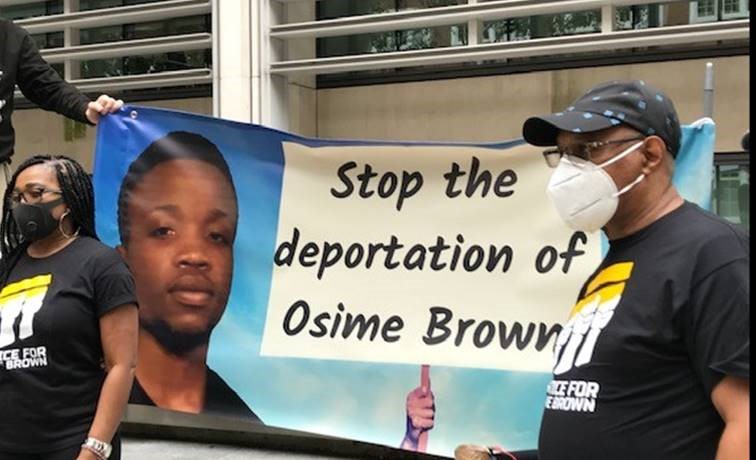 06 Oct

Important victory in fight for justice for Osime Brown: now stop his deportation!

The Home Office has backed down on its plans to detain Osime Brown pending deportation. This is an important step in the fight for justice for Osime being waged by his mother, Joan Martin, and a growing body of supporters from anti-racist protestors, disability rights campaigners and politicians.

Osime's mother Joan said, 'I want to thank all of the people who've supported Osime to win this victory – but please keep up the campaigning, because now we face the biggest challenge, which is stopping his deportation. We want justice for Osime, and justice for all of those mistreated by the cruel and heartless criminal justice and immigration system in this country.'

Osime, who is aged 21 and autistic, is threatened with deportation to Jamaica, which he left aged 4 and to which he has not returned since. His mother and all four of his siblings live in the UK. Osime's autism, learning disabilities and a serious heart condition mean he would be at significant risk if he was deported. The Home Office issued a notice of intention to detain Osime pending his deportation. Osime's solicitors at Deighton Pierce Glynn sent a letter before claim under the judicial review pre-action protocol, setting out why the detention of Osime would be unlawful and asking that the Home Secretary's decision be rescinded. The representations were based on the risks to Osime of detention in an immigration centre, including because of his heart condition which means that he is advised to shield during the COVID-19 pandemic. In immigration detention, shielding would amount to solitary confinement. Solitary confinement is an unjustifiable breach of civil liberties and human rights for anyone who is only detained for the administrative convenience of the Home Office, let alone for a young man with Osime's vulnerabilities. Faced with the threat of legal action on Osime's behalf, on Friday 2 October, the government legal department confirmed to his lawyers the Home Secretary's decision not to detain Osime after all.

The fight to stop Osime's deportation continues. After a partially successful appeal, the case has been sent back to the First Tier Tribunal for a fresh decision. The hearing is expected in the coming months.

Osime's solicitors at Deighton Pierce Glynn will now press on with a proposed claim against the prison service for the mistreatment Osime has suffered in prison, including the failure to take any positive action to make adjustments for his learning disabilities. They are also investigating the possibility of a claim for the historic failings by the education authorities and social services.

Clare Hayes and Sarah Ricca, Osime's solicitors, said, 'Osime's case shines a light on institutional racism in many of its forms, and particularly concerning in Osime's case, the intersection of racism with the discriminatory treatment of disabled, neurodivergent people and people with autism, especially in places of detention. The decision not to detain pending deportation is a very important step in turning the tide of injustices that have beset Osime since his early years. It couldn't have happened without his mother Joan's tireless fight for justice for her son – and without the efforts of all those who have supported her campaign. We urge everyone who has supported Osime so far, to keep up the campaigning which is so important if justice is to prevail.'

Read our full press release here.