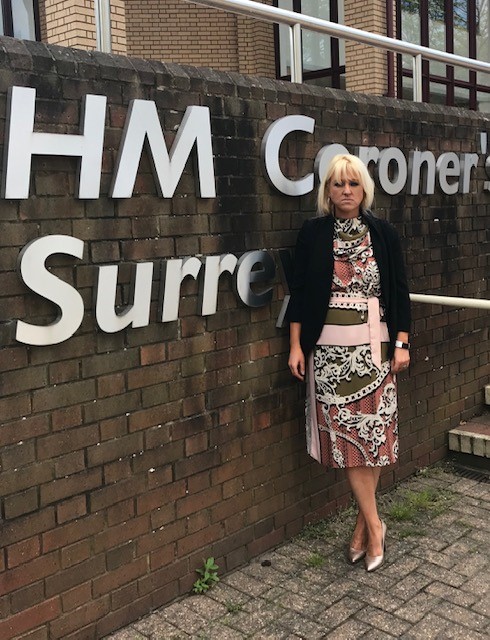 23 May

Inquest opens today into Surrey Police's involvement in events prior to murder of Christine and Lucy Lee

The inquest opens today into the double shooting of Christine Lee and her daughter Lucy  on 23 February 2014.  Christine and Lucy  were  shot  by John Lowe using shotguns that were removed and then returned by Surrey police seven months before the murders. The inquest has been resumed to consider whether failings by Surrey police, when it returned the guns and subsequently, contributed to the killings.

The inquest jury will hear evidence of the removal of John Lowe's shotguns by Surrey police after Stacy Banner, daughter of Christine Lee and sister of Lucy, reported that Lowe threatened to shoot her in March 2013; of the return of the shotguns in July 2013 by Surrey police firearms licensing department; and of ongoing involvement of John Lowe with Surrey police prior to the fatal shootings.

The inquest was resumed after HM Senior Coroner for Surrey Richard Travers ruled that it was arguable that failings on the part of the Surrey police may have contributed to the deaths.

The Coroner will also consider whether there are matters requiring attention to prevent future deaths in relation to the firearms licensing regime nationally.

Stacy Banner says; 'It's a been a long battle to get here. I hope that finally the full story will be told about how John Lowe was allowed to hold on to his shotguns and kill my mum and sister. And I hope lessons will be learned that can save other lives.'

Sarah Ricca, solicitor for Stacy Banner, says: 'The inquest will shine an important light upon police powers and duties in relation to firearms licensing. Stacy hopes for justice for her mum and sister, and that this will protect future lives.'

Notes to editors:
Stacy Banner is represented by Sarah Ricca of Deighton Pierce Glynn solicitors 0207 407 0007; and Alison Gerry of Doughty Street Chambers and Sallie Bennett-Jenkins QC of 2 Hare Court.
The inquest will be heard by the Senior Coroner for Surrey Richard Travers, sitting with a jury, at Woking Coroners Court. It is expected to last four to five.
John Lowe pleaded not guilty to double murder but was convicted on 29 October 2014 and sentenced to life imprisonment on 31 October 2014 at Guildford Crown.
Following the murders, Firearms Enquiry Officer John Crabb of the Firearms Licensing Department was dismissed for gross misconduct. Deputy Manager of Firearms Licensing, Stanton Royle, was also facing gross misconduct proceedings but retired from the force before a determination was made.