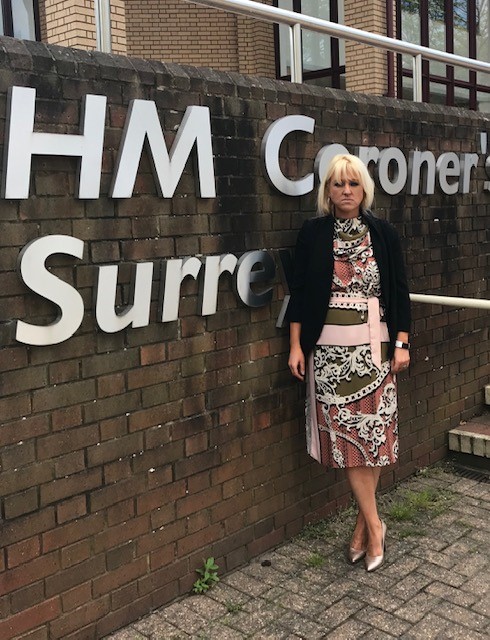 24 Jun

Jury finds series of failings by Surrey Police contributed to fatal shootings of Christine and Lucy Lee

The jury in the inquest into the double shooting of Christine and Lucy Lee has unanimously concluded that five different failings by Surrey police contributed to the two women's deaths.

Christine (66) and Lucy (40) were shot by John Lowe on 23 February 2014 at Keepers Cottage Stud, using shotguns that were removed and then returned by Surrey police seven months before the murders. They were removed in March 2013 after Stacy Banner, Christine's daughter and Lucy's sister, reported that John Lowe had threatened to shoot her at gunpoint. They were returned to John Lowe in July

Stacy Banner has fought a long struggle for justice for her mother and sister and to see changes to the firearms licensing system in this country. As part of this struggle, she secured the resumption of the inquest into her mother and sister's deaths to investigate the police failings, relying on Article 2 of the European Convention on Human Rights, which protects the right to life and requires the state to investigate failings that may have contributed to the loss of

The Coroner, Richard Travers, sat with a jury who heard evidence that Surrey police was aware that John Lowe was a man with a history of reports of domestic abuse, dishonesty and failure to comply with regulations. They heard evidence of ongoing involvement with John Lowe by Surrey police officers after the return of John Lowe's firearms after Stacy Banner reported the threat to kill. The jury heard that Surrey police officers were investigating John Lowe for fraud on his now deceased former partner Sue Wilson, had met Christine and Lucy Lee at Keepers Cottage Stud and witnessed the rising tensions there.

The jury found that Christine and Lucy were unlawfully killed, and that their deaths were more than minimally contributed to by:
A failure by Surrey Police to have in place a system to ensure that the decision whether or not to return a shotgun certificate and shotgun to a certificate holder following removal pending a criminal investigation was made or approved by a senior police
A failure by the Firearms Licensing Department of Surrey Police to investigate sufficiently whether it was safe to return to the perpetrator his shotgun certificate and shotguns following an allegation made in March 2013 that he had used one of his shotguns to make a threat to
A failure by the Firearms Licensing Department of Surrey Police to consider all the evidence and information available to it before deciding whether to revoke the perpetrator's shotgun certificate or to return his shotgun certificate and shotguns to him, following the March 2013
A failure by the Firearms Licensing Department of Surrey Police to apply the correct standard of proof when deciding whether to revoke the perpetrator's shotgun certificate, or to return his shotgun certificate and shotguns to him, following the March 2013
A failure by the Firearms Licensing Department of Surrey Police to recommend revocation of the perpetrator's shotgun certificate in July 2013 and the consequential failure by Surrey Police to revoke the
The jury also found that there were no written procedures relating to the revocation of a shotgun certificate after removal of a certificate and shotguns pending investigation. They further found that there was no nationally accredited training scheme in place at the
The Coroner has confirmed he will also make a Report to Prevent Future Deaths under his power under Regulation 28 of the Coroners and Justice Act
Stacy Banner says: 'Despite his known history of violence, and that all his victims were women family members, the officers dealing with John Lowe after he threated to kill me totally failed to identify the clear risk to women that he posed. This failure has cost my mum and sister their lives. All the police had to do was read the file. Instead they put a gun in John Lowe's hands. It makes me question how many other women suffering domestic violence are not being listened to.'
Sarah Ricca, solicitor for Stacy Banner, says: 'In fighting for justice for her mum and sister, Stacy Banner has stood up for the right of all women to equal protection from the law. She has also challenged the inadequacies in the gun licensing systems within Surrey Police and nationally. We now look forward to the coroner's recommendations to ensure lessons are learned. Stacy's fight for justice will continue.'
Notes to editors:
Stacy Banner is represented by Sarah Ricca of Deighton Pierce Glynn solicitors 0207 407 0007; and Alison Gerry of Doughty Street Chambers and Sallie Bennett-Jenkins QC of 2 Hare Court.
The inquest was heard by the Senior Coroner for Surrey Richard Travers, sitting with a jury, at Woking Coroners It opened on 23 May.
John Lowe pleaded not guilty to double murder but was convicted on 29 October 2014 and sentenced to life imprisonment on 31 October 2014 at Guildford Crown He died in custody in August 2018.
Following the murders, Firearms Enquiry Officer John Crabb of the Firearms Licensing Department was dismissed for gross misconduct. Deputy Manager of Firearms Licensing, Stanton Royle, also faced gross misconduct proceedings but retired from the force before a determination was made.